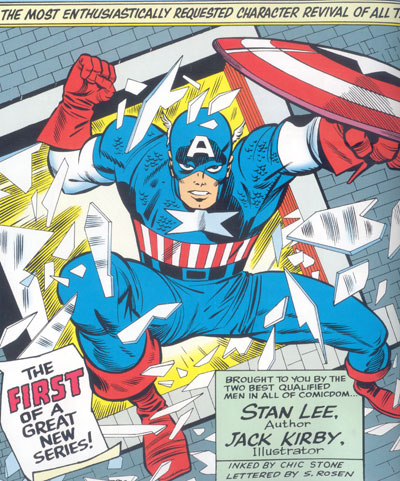 Here walked a giant. Besides being one of the great idea men, one of the great innovators (romance comics, kid gang comics, the first direct only sales success, and especially the co-creator of the Marvel universe) Jack Kirby always provided the WOW factor. Look at any comic art today--you see influences of Neal Adams, the Image group, even Milt Caniff, but the guys who made the single and two page spreads his own was Jack Kirby.

Pick up any Marvel Masterworks or Fourth World Omnibus--the art explodes off the page--you stare with gape-jawed awe. Your eye lingers and--back in the day--you had to buy the book.

In the same way Hemingway stated that all American literature derives from one source, Huckleberry Finn, all modern comics derive from what Jack Kirby wrought over his fifty-odd creative years. A lot has been written about Kirby, but here is the simplest way to sum it up. If it weren't for Kirby's explosion of creativity in the sixties, I doubt we would all be here today praising comic books.