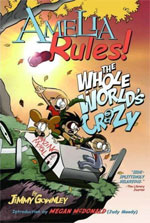 Yes yes! There is a metric
ton
of news in the offing, so I suggest you keep your peepers peeled over the next couple of weeks. Kicking it off today is the announcement that we'll be consolidating many of our all-ages creators (those who are into the idea, anyway) under the banner of a new special section of HeroesCon, tentatively titled the
Kids Love Comics Garage
.
Organized around the "
Kids Love Comics
"group of creators--who travel the country speaking at cons, schools, and libraries, promoting literacy through comic books--the new section will be (at least for now) one of the "islands" that Artists Alley is divided into at the show. I think around 9 tables or so. The Kids Love Comics group is always really popular with kids at shows they do, and we got to see it first hand at last year's
Baltimore Comicon
.
John Gallagher
, one of the cartoonists behind the
NASCAR Heroes
comic book and
Buzzboy
, has been working with us to create the new section, and it should be really great, not just for kids, but for families or anyone who likes good all-ages comics.
But who are these mysterious creators? Well, that brings me to the other announcement: today we added a whole slew of all-ages creators to the
HeroesCon 08 Guest List
, most of whom are part of the Kids Love Comics group, including:
JIMMY GOWNLEY
, creator of
Amelia Rules
, and recent 4-time Eisner nominee. Congratulations, Jimmy!
JOSH ELDER
, of TokyoPop's
Mail Order Ninja
and
Batman Strikes!
JOHN GALLAGHER
, artist of
Buzzboy
and
NASCAR Heroes
--wait, did I already say that?
RICH FABER
, of
Buzzboy
and
Roboy Red
fame, and
SCOTT SAVA
, of
Dreamland Chronicles
and
The Lab
.
ALSO joining this new section will be
TIM RICKARD
, creator of the hit
Brewster Rockit
comic, returning to HeroesCon this year! This promises to be a really great way to show off our family-friendliness--we've always been big into getting young readers into comics, so we're pretty excited about this new part of HeroesCon. Hope
you
are too!