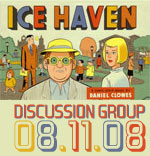 Please join us on Monday, August 11th at 7:00pm as we will spotlight
ICE HAVEN
-- a comic strip novel by
Daniel Clowes
.
Originally published as a single issue (Eightball #22), this was expanded and reformatted by Clowes into
Ice Haven
and published by Pantheon Books. It is the story of the town of Ice Haven. There are multiple characters, multiple plot lines and multiple graphic style changes by Clowes.
I don't want to give away too much of the plot(s) but suffice to say, it is a very dense book presented in a very well paced manner without being overtly challenging--at first glance. You will be entertained and you will want to read it more than once.
-- As usual we will focus on the role of the narrator(s)
-- We will discuss the use of cartoony art in a realistic story
-- The success (or failure) of the author to maintain image, perception and vision throughout the story.
-- And lots of other topics.
Please note: Yes, this IS the book that the high school teacher recently gave to one of his under-age students. The incident caused quite a media backlash resulting in the teacher being fired.
So remember two things--this book is designed for adults over the age of 18; and if you think we are going to make it through the night without discussing this incident, you must not have attended our past discussion groups.
Does the story work? Is it the classic that it has been declared over the past few years?
All of your opinions matter, we just want to know WHY you feel the way you do!
(For the Sandman discussion, we had a rather polarized group which made for some lively discussions!)
We hope to see you there to discuss this provocative book.
ICE HAVEN
is available through Heroes and from today through August 11th, we are offering the book at our special discussion group 10% discount.
This will be the groups first foray outside the super-hero genre...
For those of you who miss our unique take on all things masked and spandexed... watch this spot for an EXCITING announcement concerning a SPECIAL SUPERHERO DISCUSSION GROUP that will be coming up very soon! Here is a hint: Though still timely, the story reeks of Nostalgia.....HA!!!