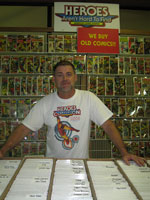 Going on this Saturday, December 27th is the
Charlotte Comicon
! Organized by our friends Dave Hinson and Rick Fortenberry, this one day comic show will be held once again in the Crowne Plaza Hotel on S. Macdowell Street in uptown Charlotte.
Shelton is really pulling out all the stops for this one, covering not one, not two, but SEVEN tables with comic books. If you didn't get to make it to our big holiday sale a few weekends ago, he'll have that extraordinary stock of dollar books out, dozens of boxes of comics, IN ORDER, all a buck a piece. AND he'll have what has been a hugely popular stock of recent and "hot" books, which our man Seth has been updating and adding to each week, so it's always fresh and ready for browsing!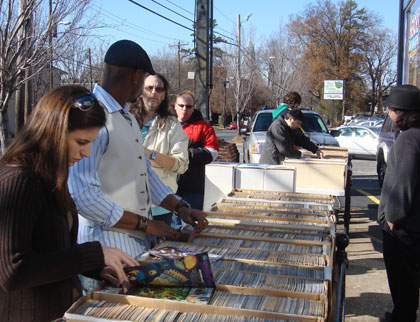 AND of course he'll have his excellent stock of classic Silver and Golden Age comics. Shelton has been hitting a
ton
of conventions lately, burning the candle at both ends, as they say; not to mention buying collections left and right. So if you haven't seen him in a while, be sure to check out his stock at the Charlotte Comicon this weekend and see what's new.
AND I ALMOST FORGOT!
Shelton is going to have vouchers with him that you can bring back to our store to get 10% off all new comics and books and 25% off all regular back issues! What? No that's right! And what's more, if an item is already discounted in our store, that 10% will be
additional!
Note that this does NOT apply to reserve customer discounts. Sorry guys.
BUT WAIT THERE'S MORE!
Print out this here blog post and bring it in to the Charlotte Comicon to get $1 off admission! Or if you're in our shop, Dave and Rick dropped off some postcards with the same $1 voucher on them for you!
OH BUT ONE MORE THING!
Remembering that this Wednesday is the last day to get
HeroesCon 09
tickets at the $25 price, Shelton is going to have a sheaf of ticket forms with him, so be sure and secure your lower-price tickets while you still can! Our 2009
Guest List
already
includes names like
Brian Michael Bendis
,
Ed Brubaker
, and
Jeff Smith
, and you
know
that's just the start. Don't miss this opportunity to get in on the best comics convention of 2009 at a lower price!