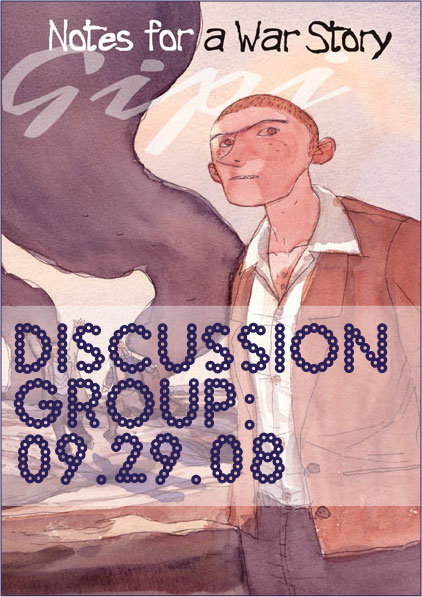 Please join us on Monday evening
September 29th
at 7:00 pm as the Heroes Discussion Group meets to tackle
Gipi
's
Notes For a War Story
.
After the chaotic storytelling of
Ice Haven
and the multi-layered symbolism of
Watchmen
, we agreed we wanted to focus on a book that is gripping, deep and extremely readable.
Gipi--the Italian master--is on a major roll. In the past year, 4 books have been published in English:
Garage Band
,
The Innocents
,
They Found the Car
, and
Notes For a War Story
. In War Story, the tension starts in panel two and does not let up until the end. We feel confident that once you have read War Story, you will want to read the other 3.
Topics will include but not be limited to the following:
--How does the book's two-tone coloring scheme work ?
--Does the symbolism in the book add or detract from the story?
--Does the impressionistic art heighten or detract from the reality of war?
--How do you interpret the title?
--Does a translated comic read differently than a book created specifically for an American audience?
--How has Gipi's (and other Europeans') art been influenced by American
film noir
?
If you read it and find the reading experience to be outside your usual comfort zone, come by on September 29th and tell us why... All comments are welcome. We will be meeting in the back of the store, so bring your own coffee or soda.
For those that wish to keep thing closer to the vest (or cape and cowl as it were) we will be having another dinnertime Saturday night discussion about
Frank Miller
's
The Dark Knight Returns
. Watch this space as details cement.
Remember, Heroes is offering a 10% discount on both
Notes For a War Story
and
The Dark Knight Returns
. Just be sure to mention the Heroes discussion discount when you check out!