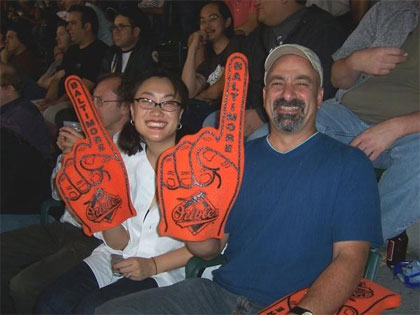 Man, things are really heating up for this year's
HeroesCon
! Now that New York Comic Con has come and gone, we're the next hot date on the con calendar, and we can't keep up with the number of professionals wanting to get on the
Guest List
!
Today we're pleased to announce the return to HeroesCon of
DC Executive Editor
Dan Didio
and
Coordinating Editor Jann Jones
! This is their third straight HeroesCon, and they've become some of our most fan-favorite guests--especially when they hold forth on what's new from DC in panels! I'm so busy during the convention that I usually don't get to watch many panels, but last year I got to see a little of the DC Nation panel. I have to say I was pretty impressed--Dan is an intense dude, and was practically
vibrating
with energy as he paced back and forth in front of the packed room, answering questions and discussing DC properties. Jann's no slouch, and took point on a lot of conversations, but it's hard for anyone to get a word in when Didio has the floor!
Also new this week, and brand new to HeroesCon, is DC writer
Matt Sturges
. Besides partnering with
Bill Willingham
to write
Jack of Fables
, he also writes
House of Mystery
,
Shadowpact
,
Salvation Run
, and now
Blue Beetle
! We're really happy to be expanding the number of quality writers at the con--while we're known for our great artists, great art is pretty empty in comics without a great story.
Still a ton of updates to go, including another publisher, a big artists studio, and some classic newspaper artists! All next week, plus more updates on programming, incentives, and more!
--NOTE--I got that picture above from Dan's MySpace page. Check out the comic book Who's Who in the background! I think I see
John Lucas
,
John Cassaday
,
Jimmy Palmiotti
, and
Phil Noto
, although those could also all be doubles. You can never be too careful.